Women in Change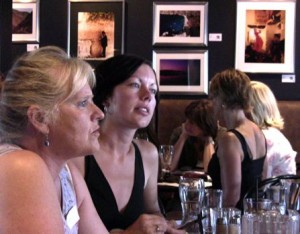 No matter where we are in our journey we can use support, inspiration, connections, courage…
This Conversation provides  space to explore key aspects of this process with Robin June Hood  as well as other Women In Change.A great conversation involves deep listening. CWW give us a place to bring the questions  we've been thinking about to a highly attentive conversation that may only last  five minutes.
Once people share parts of their story, stronger connections are made. and new opportunities for collaboration develop.Learn more about the producers and facilitators of Conversations with Women in Change

Facilitator The Six Minute Interview – view a sample

What you'll learn
No matter where we are in our journey we can use support, inspiration, connections, courage…
This Conversation will have space to explore key aspects of this process with Briony Penn, as well as other Women In Change.
Participant Reflections
What women say…'[We] are looking forward to this intriguing gathering of women. Must be the right time and the place…..There is a real hunger for authentic conversations on this topic..lots of wisdom lurking and just needs the gracious container."I am looking forward to sitting with these thoughtful women. We are in the now time of going deeper with our enquiries. I will bring a pen and space for deep listening.]
Ongoing: Process…. Reflection….. Feedback
Reflections:
An interesting question you heard, thought of, or asked.
What do you love about your lifestyle?
Who is your role model , and why?
How did you know that's what you needed to do?
When are you most sturdy?
How do you use your spirituality to guide you?
How to conquer fear?
On a personal level what do you bring to the world to create change?
How do you make things personal without taking them personally?
What do you love about your lifestyle? I need to revisit this question often because it's easy for me to disconnect and get caught up in what I'm doing. As an A type personality it's often difficult for me to slow down enough to truly see what an amazingly beautiful life I have. The question was interesting to me because it was a timely moment in a room full of positive.
What is an idea you could use or would like to develop?
How to conquer fear.
I like the group dynamic of mixing people to get to know others so everyone has a way to meet others.
Connecting mind, heart and nature with music and beauty.
Start with the ideal.
Restoration in beauty and vulnerability.
All we have are our stories and humbleness.
Start with the positive.
Inflict a positive question.
You have a nice face, and you listened.
The multi family housing modality that has been with me since finding an example in California 20 years ago.. Time to move with it.
• What did you learn about yourself /others?
I was reminded that women are incredible.
Read the signs.
I'm on the right track.
A lot of women have gone through a lot of life and death experiences which propel them to fearlessness.
There are some wonderful gifts in me and in others, and that my journey need not be one of solitude and loneliness.
Whatever I do is enough ( though there will always be more to do.)
Learning takes time. There is too little of it.
How hard it can be to relocate and how it excites me to have this challenge.
Stay true to the message in your heart, it's okay. I sometimes struggle with remembering this and often second guess myself and listen to other pulls than those from within myself.
What benefit can you imagine or have realized from this workshop/ series?
Listen and learn from everyone elses knowledge and experience.
Acknowledging where I am.
Women working together without competition. Yes!
Teaching others to listen and explore.
Meeting women who care.
The interviews with Robin and Donna were amazing. It is rare for a young woman to have the chance to interact with that type of archetypal crone energy! It was delightful to hear of power through vulnerability. I really dig that, thanks!
I benefit from engagingwith others in this kind of a nurturing environment. I don't often enough find myself in these kind of situations where you can talk without barriers and feel like everyone is on the same playing field.
What grounds for hope did you find , or explore?
Everything is ok.
Inspiring people doing great things.
That with time all things fall into place.
Acceptance.
. What follow up steps might you take?
Be aware.
Identifying where I"m not sturdy.
Calling others, inviting them for coffee or to my workshops, or discussions on change.
I will come again and keep connecting. I will take some of the messages I heard and use them in my own personal growth.
Which activity spoke to you. What did you discover?
I discovered a new network of fascinating and fabulous people. The activities for me were challenging, as I'm used to listening to others and not talking about myself. I feel like the questions I wanted to ask were ones that I wanted help in answering, rather than trying to answer them myself, but it was a good exercise. I found the evening inspiring!