Synopsis: Collaborative Board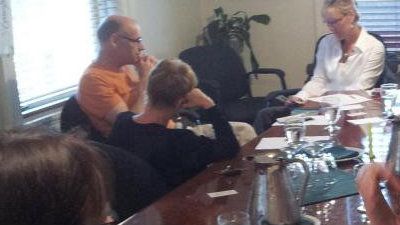 At Collaboration Boards find answers and insights to your business issues and initiatives, develop new communication skills,  make valuable connections, begin conversations with other  diverse talented  inspiritors and collaborators  that will bring resources and opportunities unattainable through  previously known avenues.
'How often are you in a diverse group of strangers, where one gets to mention an issue to them, and the rest of the people in the group are solely focused on how they can help you resolve that? That's what Collaboration Board  is to me.'
Synopsis of what is covered at Collaborative Board: < overview of Your Collaborative Board>
How to use ConversationWorks tools  to quickly grab and hold another's attention.
12 keys to success in the new socializing, a new listening and communication model that ensures deep engagement  in a time-effective manner- on the phone or in person.
Introduction to 19 metaphors and themes for empathy in our card deck and phone app.  To use them effectively  for personal reflection and communication, team building, problem solving  and critical thinking
Process that yields insightful questions and deep listening around  an issue or initiative you are working on.
What is available
Each of the 12 board members are given an opportunity to bring two issues or initiatives for the   board members to focus on and ask important, revealing, insightful questions from our card deck
ConversationWorks Card Deck: to initiate authentic conversations
On-line tools, including a  ConversationWorks phone-app, a Facebook  group and Collaborative Network  to encourage and support this 'new conversation' in their business and community.
Membership in  a powerful ConversationWorks Alumni-providing  great contacts from the community who understand the process and are often more than ready to help individuals between board meetings
Contact  Christopher Bowers if you'd like to be included.