Stories We Tell Our Children
What are the stories you'd like to share with  your children?  No matter where they live, or how often you see them,  we can provide a new channel to stay in touch, and keep memories alive.
What we offer….
Stories from my grandmother before I was born….
We offer private recording sessions, and public workshops.

Listening to others' short life-stories, we are often reminded of experiences of our own. Ours is a highly engaging, interactive and often surprising process.
We  help you develop a collection of stories you could then share with your children. You will learn about other's life experiences, how to ask good questions, how to listen to others and  to tell your story so people will listen to it. Your stories are recorded on video. Lightly edited story videos are then posted on our web site as story albums with privacy settings set by you. Our private sessions  result in from to 10-20  stories in an hour.
Click here to view sample stories by parents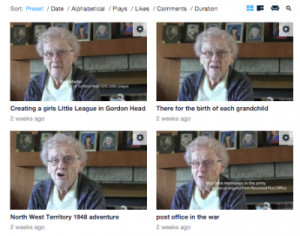 Here are some  individuals'  story albums … Click on description to view their album