Hi! Conversation Changes Lives – the Book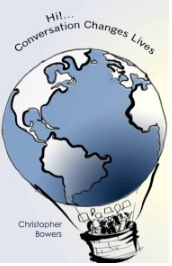 "Hi!"- explores our world through intentional authentic connections bringing forth the wondrous power of conversation.
Read what happens when people step out of their comfort zone, become Travelers and dare to speak with strangers.
Discover the golden moments that enrich their lives.
Hear the questions they ask themselves and others – questions that often become a catalyst for change and adventure. We'd love to hear about your experiences when talking to strangers. What did you ask them? What happened next?
If you ask us a question, we'll respond, and ask you another.