A Guide for New Members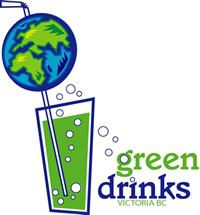 Welcome to Victoria's Green Drinks community.
New to town? Let us know. We'd like to help you 'break into Victoria"
Here's a way to be most effective at the monthly Green Drinks:
Identify a theme or topic that you want people to talk to about. If you only have a few minutes to talk with someone , what would you want to talk about?
Bring a label or tag with this on so people can read it on you.
Here are some themes people have used
New to Victoria.. seeking opportunities
Seeking volunteers
Dealing with change
Finding solutions
Urban gardening, or Urban Forests
Block party
Joining the 1100 people on our list serve, directly:
Send a message directly to
subscribe greendrinksvictoriabc
with "subscribe greendrinksvictoriabc" in the subject line.
Reading our bi-weekly newsletters that help you stay current.
We look forward to talking with you at our next meeting.
Christopher Bowers
Coordinator
Green Drinks, Victoria.
info@greendrinksvictoria.ca