Green Drinks Victoria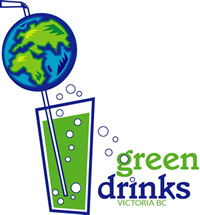 Welcome to Victoria's Green Drinks community, part of Green Drinks International
Networking Resources to sustainability causes.
We meet on the second Tuesday of every month. The next Green Drinks is on Tuesday, May 9th from 5:00- 7:00 PM at the at The Drake Eatery on 517 Pandora. We have the left  side of the Drake reserved for us   <map>  That time of night there's usually street parking, and the lot on Herald offers the first hour free.
View videos from our Green Drinks Victoria members..
Know what is going on with Green Drinks by:
Joining the 1009 people on our list serve, directly:
Click here to subscribe.
Join our MeetUp group or Facebook group
Reading our monthly newsletters that help you stay current.
Christopher Bowers … contact
Coordinator
Green Drinks, Victoria.
Updated: Feb 16th, 2017