What students said about Janine Martin
*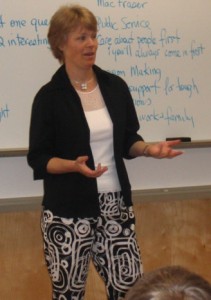 Janine Martin was an awesome speaker. She was so entertaining. I really like that she was so brave to leave her steady job, and take a risk. The question she asked herself, "am I selling my self short?" was such a common question and a really big fear of mine. To see her decided to change her situation and to succeed so much is very reassuring.
She seems to lead a really fast paced life, which is really appealing to me. I was also interested in her career because she talked about it with such passion. I am now considering looking into investment advising as a career.
She did a really great job making her job sounds really interesting. I like that she wasn't happy so she decided she was going to change her situation. She saw a problem and solved it! She was great!
*
I really like the idea of big decisions coming to you as a gut feeling. I think that takes a bit of the pressure of making the right decision off. I really liked Janine's story about working at Shoppers Drugmart, because sometimes I am afraid that I wont make it. But the thing is that Janine is really successful now, so it gave me faith that all things can work out. I gained alot of confidence in my ability to succeed in life from these people who have done so
The two ideas that stood out to me were jumping in with both feet and care about people first and you'll always come in first. I like how Janine just jumped right into her job, wasn't even going to school for it, and then made top 4 in the company. The interviews could be helpful to high school students to inspire them never to sell themselves short and to have confidence.